Legion Baseball -- Springfield Post 176
2017 Tournament Schedule & Results
District Champs!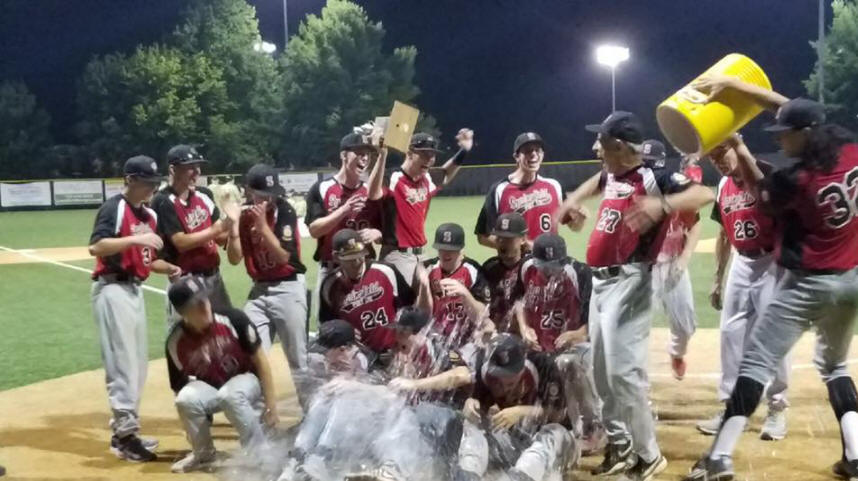 2017 State Championship Brackets & Results
Inside Nova Article -- Championship Game
Inside Nova Article -- Semi-Final Game
Washington Post Article - Legion Baseball
On Sunday, Manager Jim Glassman and the Post 24 baseball team recognized Coach Len Yankosky's many years of coaching the Springfield, Post 176 baseball team with a pre-game recognition ceremony. This year marks Coach Yankosky's 27th year coaching the Springfield, Post 176 American Legion baseball team. Coach Yankosky's family was in attendance to enjoy the event.
---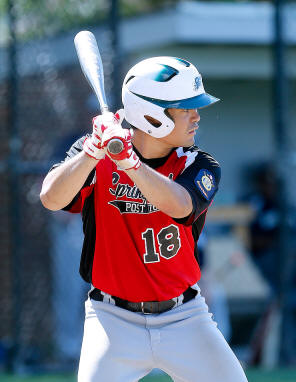 Post Season Schedule & Results
Springfield's loss last evening to Falls Church Post 130 by a score of 7-6 brought an end to its American Legion Baseball season. Springfield Post 176 scored in the top of the first inning to take an early lead. Falls Church answered with runs in the third and fourth innings, scored two more in the 5th and one in the 6th for a 5-1 lead. Springfield scored a run in the 7th inning, and both teams scored in the 8th inning to bring the score to 6-3. In the top of the 9th inning, Falls Church scored a run on a double, followed by a throwing error by the third basemen that lead to an unearned run. With two outs in the bottom of the 9th, Springfield mounted a comeback scoring 3 runs on three hits and a walk. And with a runner at second base, Davis McNabb sent a sharply hit ground ball to the second basemen that was well played, fielding the hard hit grounder and throwing to first for the final out of the game, and what turned out to be the final out for Springfield's season. Matt Stallings, who will be playing at VCU, had three hits and Jacob Kisner, who will play at Chesapeake College, had 2 hits to lead Post 176. LHP Brent Nachison took the loss. Springfield Post 176 finished the season with 14 wins to go with 9 losses.
Ryan Hasegawa's 'final' AB with 176
---
Wed July 20th: In another hotly contested game, Springfield Post 176 lost last evening to Vienna Post 180 by a score of 8-7 in 10 innings. Springfield scored in the top of the first inning on a solo home run by Louis Perez. Vienna tied the score in the first on a lead-off triple followed by a hit. Springfield and Vienna each scored again in the third before Springfield took the lead 5-2 in the top of the 5th inning. Vienna bounced back with 4 runs in the bottom of the 5th inning. Vienna added a run in the 6th inning to lead 7-5. Springfield scored two runs in the 7th inning to tie the game and had an excellent opportunity to score in the top of the 9th inning, with runners on second and third with one out. However, Vienna retired the next two batters. In the bottom of the 10th inning with two outs, Vienna got hits from their 8th and 9th hitters in the lineup to set the stage for Bryan Harthun's single up the middle to score the winning run. Springfield had their chances but a few errors and the lack of timely hits lead to the loss. Springfield left 8 runners on base.
---

Sun July 17th: In dramatic fashion, Springfield Post 176 won its opening 17th District tournament game against Arlington Post 139 by a score of 6-5. Arlington scored a run in the 3rd inning before Springfield tied the game on a solo home run in the 4th inning by Louis Perez. Springfield scored 3 more runs in the 5th inning. The 4-1 lead held until the 9th inning when Arlington erupted for 4 runs in the top of the 9th to go ahead 5-4. In the bottom of the 9th inning, Brendan Fletcher lead off with a single. Perez flied out. Matt Stallings then singled to right field. Both runners quickly advanced to 2nd and 3rd on a wild pitch. With a count of 1 ball and 2 strikes, Ryan Hasegawa lined a single to left field to drive in both runs for the win. Tim Newell pitched extremely well for Springfield going the distance to earn the win.

Springfield advances in the winners bracket and plays Vienna Post 180 on Tuesday at 7 PM at Waters Field in Vienna. Vienna beat Falls Church Post 130 by a score of 5-4 in the other game of the day.

Ryan Hasegawa's winning hit - Video
---
Monday - June 20th: The Springfield, American Legion Post 176 baseball team won both games this past week. On Tuesday, Post 176 defeated Alexandria Post 24 by a 7-4 score. Brent Nachison, LHP, pitched 6 innings to get his first Legion win. Nachison did not allow a run and gave up 5 hits while striking out 6 and allowing a base on balls. Kye Colza and Chris Bennick pitched the final three innings. Brendan Fletcher, SS, delivered a bases loaded double to drive in 3 runs. Fletcher finished with 4 RBI's for the game. Thursday's game against Falls Church Post 130 was rained out after 4 innings with Springfield in the lead.

On Sunday, Springfield defeated Arlington Post 139 by a score of 17-3, scoring 8 runs in the third inning to take control of the game. Ryan Hasegawa, catcher, had 3 hits for Springfield while scoring four runs and driving in four. Jacob Kisner, 2B, and Davis McNabb, designated hitter, each contributed two hits of Springfield's 12 total hits for the game. Tim Newell pitched 6 innings to gain his second Legion win for the season. Newell allowed 8 hits while striking out 4. The three runs scored by Arlington were unearned. Springfield's record is now 6-1.

The next game is a double-header on Thursday, 6PM, at Hayfield High School, against Alexandria Post 24, as Springfield hopes to continue its winning ways!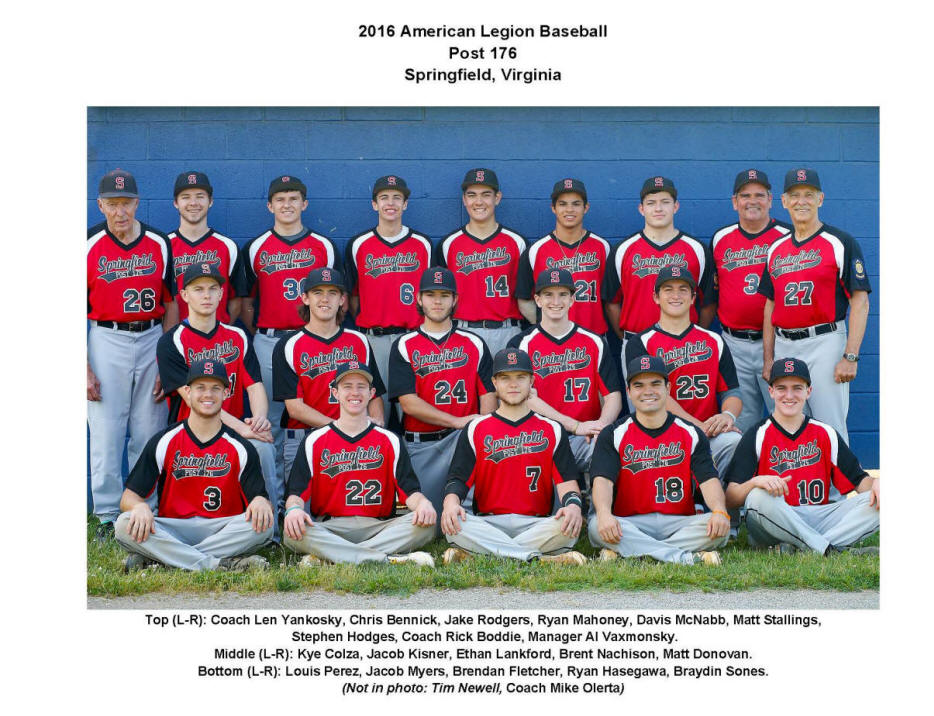 ---
---
Conference Record 15-4
2015 Tournament Schedule and Results
Pictures - Summer 2015 - Vol I
Pictures - Summer 2015 - Vol II
Pictures - Summer 2015 - Vol III
Pictures - Summer 2015 - Vol IV
Taylor Platas & Brandon Bennick
---
---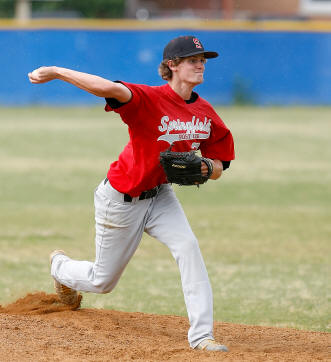 Top (L-R):, Coach Len Yankosky, Greg Zajic, Chris Bennick, Peter Block, Tim Yonkers, Paul Fritschner, Thomas Meiller,
Manager Al Vaxmonsky.
Middle (L-R): Jack Milewski, Louis Perez, Brandon Bennick, Hayden Basse, Zane Colza.
Bottom (L-R): Kyle Foley, Ryan Hasegawa, Mickey Stebick, Taylor Platas, Garret Shondelmyer
(Not in photo: Stephen Hodges, Brandon Padgett, Coaches Rick Boddie, Mike Olerta & Roland Thiele)
---
2013 Tournament Schedule and Results
Pictures
---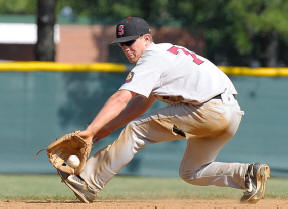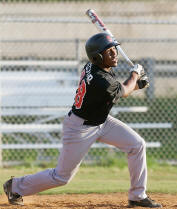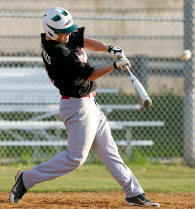 2011 District 17 Champs
Sun Gazette Article -- July 22, 2011
2011 Tournament Schedule & Results
Sun Gazette Article -- July 20, 2011
Springfield Connection -- 2011 All-star game
Season Pictures
2011 District 17 Champs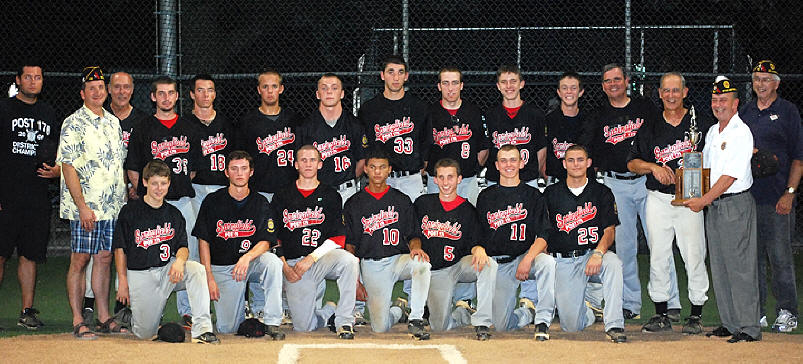 ---
2010 District 17 Champs
Springfield Connection - States at Danville
Springfield Connection - Championship Game
Sun Gazette Article - Championship Game
Springfield Connection Article 1
Springfield Connection Article 2
Sun Gazette Article - July 2010
---